This October, our team at Survival Jack is bringing you a set of articles we're calling the "Winter's Bounty" series. These articles will provide tips and instructions for extending your growing season well past autumn, into December and beyond! In this week's article we'll discuss the best type of greenhouse for winter gardens.
Stayed tuned over the coming weeks to see how you can grow fresh produce all winter long.
Winter is right around the corner, and for us homesteaders, that means the impending end of another growing season.
Or does it…
We're here to tell you that with a little upfront investment and some elbow grease, you can enjoy fresh produce well into winter and even through it!
The secret is greenhouse gardening, and it's easier (and cheaper) than you might think.
Here's our list of the five best types of greenhouses for winter gardens.
The Right Material.
If you know about greenhouses, then you're probably familiar with the different materials used to cover them.
Glass may be the traditional choice, but for the best types of greenhouses for winter gardens, we recommend a polyethylene or polycarbonate covering instead. These materials are less expensive and better at protecting your plants than glass.
POLYETHYLENE SHEETING
Polyethylene is a plastic film that has been used to cover greenhouses since the 1960s. It comes in three, four, and six-mil. thicknesses. A single sheet protects plants against the winter elements but doesn't stop the cold from seeping in.
POLYCARBONATE COVER
While more expensive than polyethylene sheeting, polycarbonate is strong—200 times stronger than glass, in fact.
Polycarbonate is excellent at resisting the battering of winter storms. It diffuses light and prevents plants from getting scorched. It also has better thermal efficiency than glass.
Best Cold-Weather Greenhouse
5. HOOP HOUSE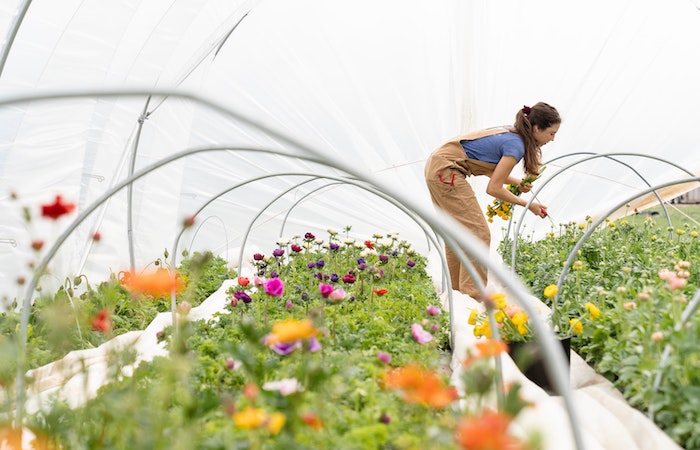 A hoop house (also called a high tunnel) consists of a tubular frame that's typically covered in polyethylene sheeting. Hoop houses are fixed directly into the ground, providing a simple cover for your crops. They have no lighting or temperature control and are relatively inexpensive to build.
For maximum heat retention in winter, make sure to cover your hoop house with two 6-mil. polyethylene layers. Then install an inflation kit to create a pocket of air between the layers. This will act as insulation for your hoop house and keep the environment at a warmer temperature all winter long
4. A-FRAME GREENHOUSE
An A-frame greenhouse is, as the name says, a greenhouse with an A-shaped roof and walls. The structure is very simple so it's easy to build.
During winter, the shape of the a-frame roof does a good job at transmitting light to plants. Because it's slanted, condensation droplets slide down the ceiling rather than dripping into your crops. The slanted shape also causes the A-frame green house to shed snow (though drifts will pile up at the base).
3. GOTHIC ARCH GREENHOUSE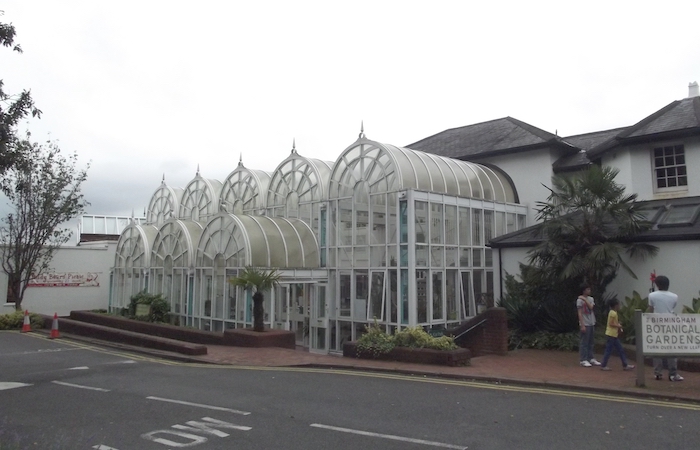 The gothic arch greenhouse is trickier to build than an A-frame, but the half-teardrop shape sloughs snow with less accumulation at the base. Like the A-frame, the shape of the gothic arch encourages condensation runoff. The roof is higher than with the A-frame, which means you can grow tall crops and even trees.
2. LEAN-TO GREENHOUSE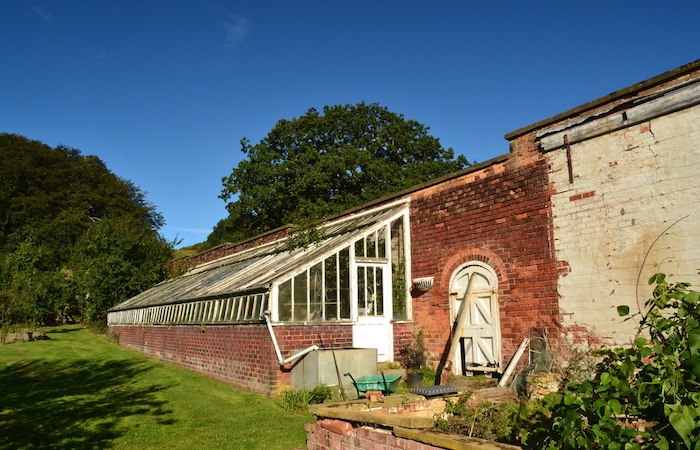 Unlike the shelters we've talked about so far, the lean-to greenhouse is not free-standing. Instead, it's built up against the wall of an existing structure like a home or barn.
These greenhouses do very well in the winter. They're stable and can stand up to strong winds. And they do a great job at maintaining an elevated temperature, especially if they share a wall with a heated, insulated home.
1. GARAGE GARDEN
The best type of greenhouse for winter gardens is the one built inside your home…or your garage, anyway.
As far as buffering against the elements goes, you can hardly do better than your garage. As for warmth, you can keep the environment at the right temperature with a space heater or heated mats.
The big challenge with garage greenhouses (other than finding somewhere else to park) is light—a garage is a dim environment for plants. You can fix this with grow lights, but that might not be enough. Consider adding exterior windows and installing reflective material on the walls and ceiling to bathe your plants in natural sunlight.
Image Credits:
"My Greenhouse" by axelkr is licensed with CC BY 2.0. To view a copy of this license, visit https://creativecommons.org/licenses/by/2.0/
"Birmingham Botanical Gardens – Westbourne Road, Edgbaston" by ell brown is licensed with CC BY 2.0. To view a copy of this license, visit https://creativecommons.org/licenses/by/2.0/
"Lean-to greenhouse at Wrea Head Hotel" by Peter Barr is licensed with CC BY-SA 2.0. To view a copy of this license, visit https://creativecommons.org/licenses/by-sa/2.0/
Subscribe for Free
Get access to premium content and more!