Pickling and fermenting are two methods for naturally preserving foods, and both produce some delicious, tangy results. While both pickling and fermenting produce different results, there are some areas of overlap that can easily spark some confusion. Pickling involves soaking foods in an acidic liquid to achieve a sour flavor; when foods are fermented, the sour flavor is a result of a chemical reaction between a food's sugars and naturally present bacteria — no added acid required.
Today I am going to share two simple procedures one for making sauerkraut and the other for making refrigerator pickles.
Health Benefits of Fermentation
Lacto-fermentation has been used for centuries to preserve seasonal vegetables beyond their standard shelf-life. The fermentation process itself is very reliable and safe, and the fermented sauerkraut can be kept at cellar temperature (around 55°F) for months, although those of us without cellars can make do with storing the kraut in our fridges. Besides preserving the cabbage, this fermentation process also transforms it into something incredibly tasty and gives it additional health benefits — fermented sauerkraut contains a lot of the same healthy probiotics as a bowl of yogurt.
Sauerkraut is often one of the first fermentation projects recommended to curious DIY-ers, and with good reason: It's beyond easy to make, it requires very little special equipment, and the results are dependably delicious.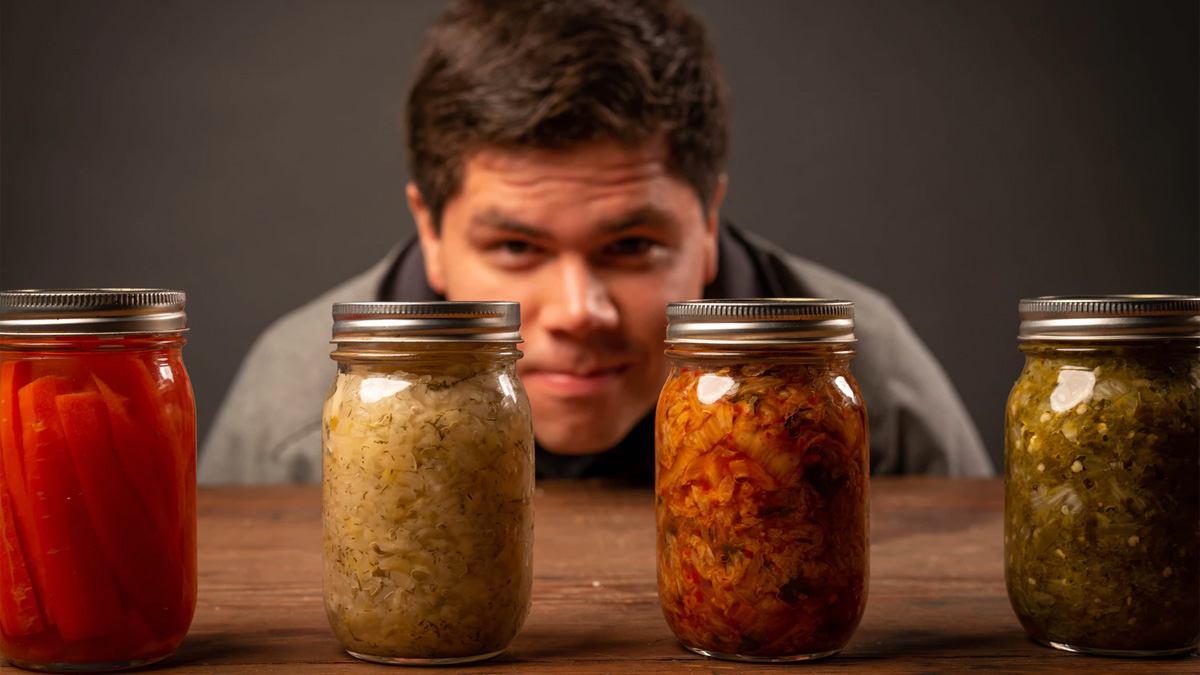 How to make sauerkraut
At the most basic, all you need is cabbage, salt, and some sort of container to store it while it's fermenting. It's important that the cabbage remain submerged in its liquid during fermentation. When making sauerkraut in a crock, you usually place a weighted plate over the cabbage to pack it down and keep it submerged. When fermenting in a mason jar, inserting a smaller jelly jar filled with rocks or marbles in the mouth of the larger jar serves the same purpose.
The cabbage near the surface tends to float, so when fermenting in a mason jar, you need to either tamp down the cabbage a few times a day or place a large outer leaf of cabbage over the surface of the shredded cabbage to hold it down. Also be sure to keep the jar covered at all times with a clean cloth or piece of cheese cloth. This will allow airflow, but prevent dust or insects from getting into the sauerkraut.
For a small quart-sized batch the minimum time is about three days, although the kraut will continue to ferment and become tastier for many days after that. As simple as it sounds, the best rule of thumb is to keep tasting the kraut and refrigerate (or take it cellar temperature) when it tastes good to you. The sauerkraut is safe to eat at every stage of the process, so there is no real minimum or maximum fermentation time.
You may see bubbles, foam, or white scum on the surface of the sauerkraut, but these are all signs of normal, healthy fermentation. The white scum can be skimmed off as you see it or before refrigerating the sauerkraut. If you get a very active fermentation or if your mason jar is very full, the brine can sometimes bubble up over the top of the jar. This is part of the reason why I recommend using a larger mason jar than is really necessary to hold the cabbage. If you do get a bubble-up, it's nothing to worry about — just place a plate below the jar to catch the drips and make sure the cabbage continues to be covered by the brine.
It is possible you might find mold growing on the surface of the sauerkraut, but don't panic! Mold typically forms only when the cabbage isn't fully submerged or if it's too hot in your kitchen. The sauerkraut is still fine (it's still preserved by the lactic acid) — you can scoop off the mold and proceed with fermentation. This said, it's still important to use your best judgment when fermenting. If something smells or tastes moldy or unappetizing, trust your senses and toss the batch.
For more information on fermentation check out Cultures for Health where they cover a variety of fermentation topics.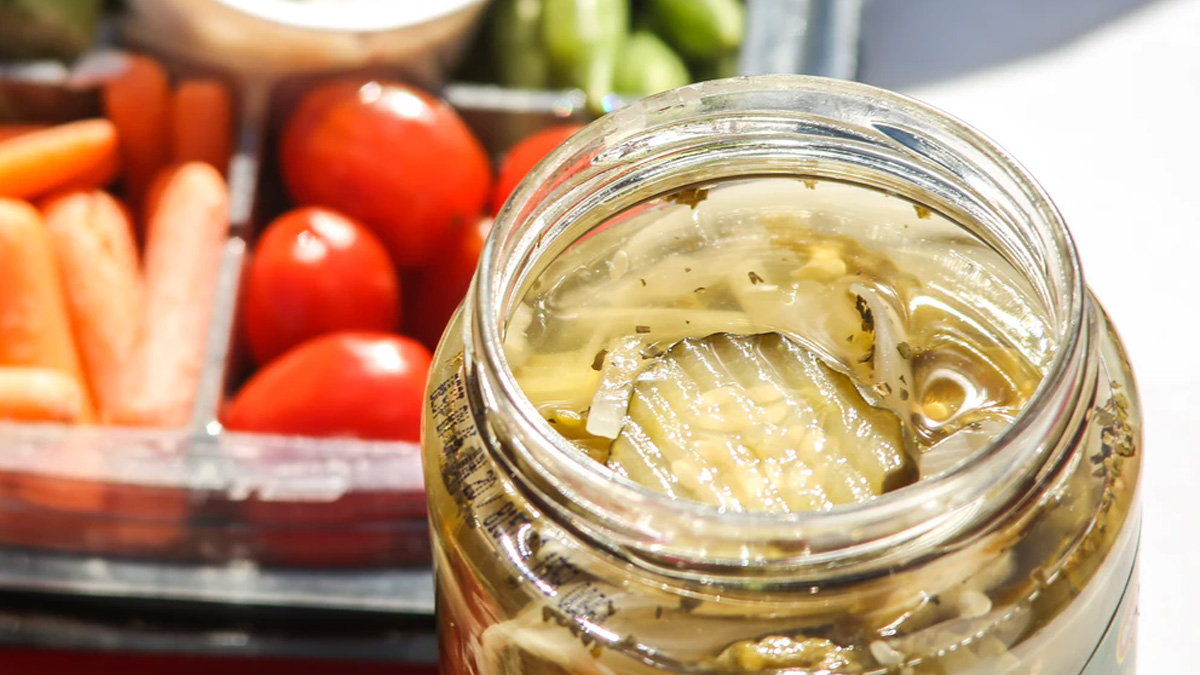 Health Benefits of Pickles
Pickling is a method of food preservation that works by immersing foods in an acidic solution, like vinegar, that changes both the taste and texture of the food. It also involves the use of heat, which serves to destroy and inhibit the growth of any microorganisms.
The fastest and easiest way is quick pickling, in which vinegar along with sugar, salt, and sometimes various herbs or spices are brought to a boil and then poured over fruits or vegetables that are left to soak for a short time.
And even though vinegar is a product of fermentation, pickled foods are not fermented by default, as they don't produce the same probiotic and enzymatic qualities of fermented foods.
Pickles that are not fermented still deliver the benefits of vinegar, spices, and cucumbers. Drinking pickle juice has become a trend because of the touted benefits related to muscle cramps, weight loss, diabetes, and more.

Pickles can boost your intake of antioxidants. The natural antioxidants found in all fruits and vegetables help in the fight against free radicals. Free radicals are unstable chemicals that form naturally in the body and are linked to problems such as heart disease and cancer.
How to make easy refrigerator pickles
Subscribe for Free
Get access to premium content and more!