A pie-iron is small cast-iron pan that lets you toast, bake and grill food right on top of the campfire coals. Not only can you easily cook up grilled cheese, breakfast sandwiches and pizza with a pie iron, but you can also bake mini pies and cinnamon rolls too. These types of foods are sometimes also known by the name of "hobo pies", "pudgie pies" or "mountain pies" depending on what part of the country you are in.
Pie-irons come in a variety of shapes with the most common being square and round. My personal favorite is the round ones as they seem to have more room for fillings and in my experience give you a tighter seal. The leftover bread around the edges gets cut off and tossed to our dogs. The exception to the round preference is the waffle pie-irons – yes you can make waffles over the campfire!

There are some aluminum versions out there but we prefer cast iron. Of course that makes them a little heavy to have in a Go Bag, but they are great for car camping or backyard cookouts. And it is something fun and different for the kids. You can use frozen store-bought dough, your own freshly made dough or just some bread slices.
You can season them just like you would any cast iron pan: with repeated oiling and baking over an open campfire or grill. That way, none of your camp snacks will stick to the pans. As with normal cast iron pans, the pie iron will get more and more seasoned with each use and will last for years.
The basic set-up
The best meal procedure for the pie iron goes like this: grease the pans a little; add a starch, like mashed potatoes, dough, or bread; add fillings; then cover with the same starch. Clasp the irons shut, then lay flat over a bed of hot embers or coals to cook evenly. You can use your gut to tell you when to flip, but don't hesitate to open them up and check every so often. Each fire is different and will cook at a different rate. When the dish is nice and toasty, unhook the pans and tap your pie over a plate to release it. (You can also use a knife to help pry it out if it sticks a bit.)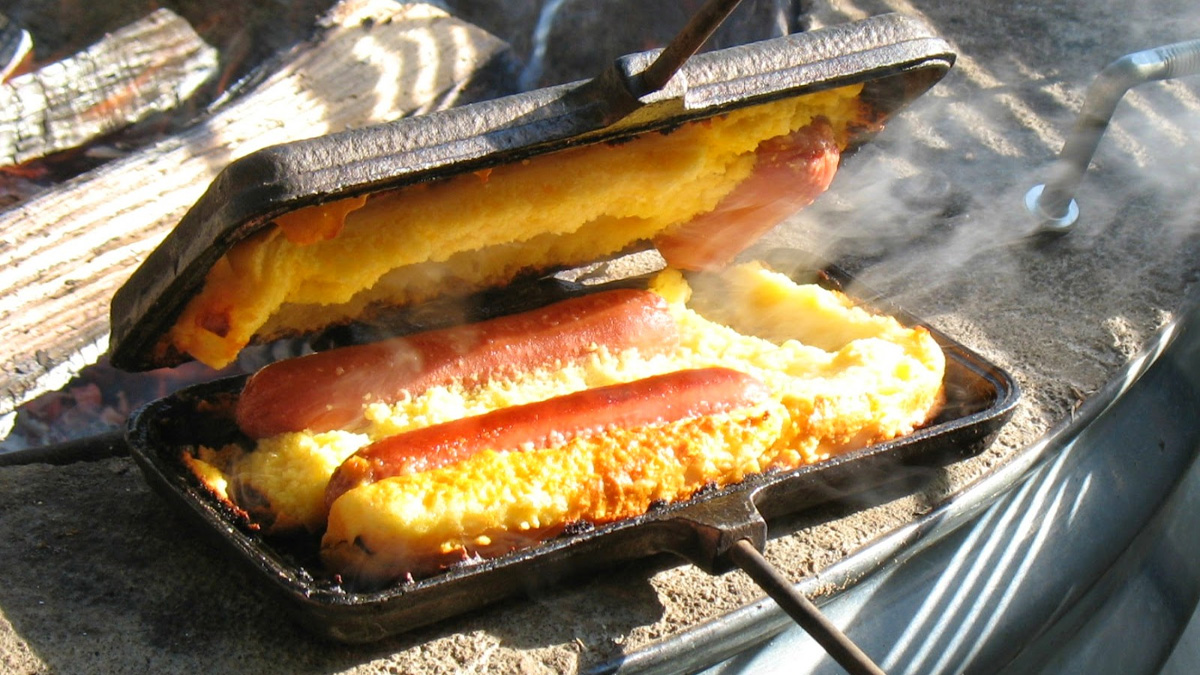 Sliced bread is the easiest to create pies with especially for kids, although you can use fresh or frozen dough as well.
The filling can be anything that catches your fancy that will fit in the slightly concave hollows between the two slices of bread. Usually that amounts to 2-3 tablespoons of filling.
Filling combinations to try
Sweet
Nutella and banana
Nutella and Marshmallows
Nutella and Strawberries
Peanut Butter and Jelly
Honey and Peanut butter
Apples and Cinnamon Sugar
Any canned pie filling (peach and apple are favorites)
Savory
Mozzarella Cheese and Pepperoni
Spinach, bacon, feta, mushrooms, and onion
Sausage, scrambled egg, and cheddar cheese
Avocado, scrambled egg, bacon, and tomato
Ham and cheese
Tuna Salad and Cheddar Cheese
Just plain cheese of your choosing fora grilled cheese sandwich
While these pie-irons probably aren't going to make it on a backpacking trip, they are a great way to add some variety to your meals at home as they can be used in a fireplace, or woodstove, of in a backyard fire pit if you are wanting to keep from overheating your house in the summer.
Subscribe for Free
Get access to premium content and more!