One of the most widely overlooked disaster resources are maps—especially printed maps (which are sadly going the way of the dodo).
But when utilities go down in an SHTF scenario, printed maps can be a major survival asset. Without Google or Apple Maps available, they'll give you information on your surroundings you can't get anywhere else.
Read below to see the types of maps that should be in every prepper's bug-out bag and emergency stash.
A General Reference Map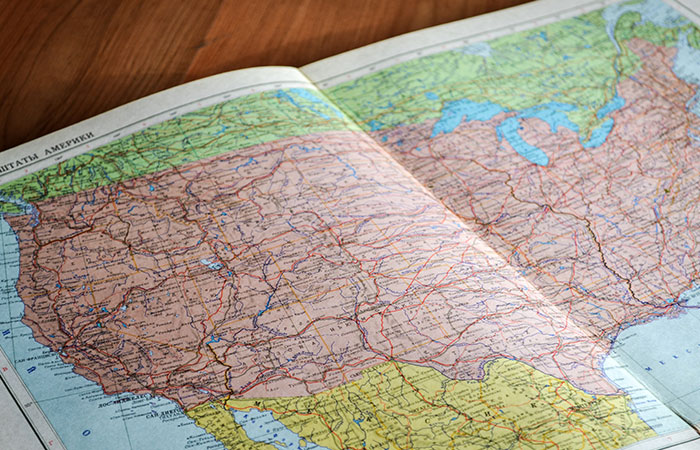 WHAT IS IT?
We'll start with the most common, well-known map: general reference. These chart prominent physical and man-made features. They're what most people envision when they think of "maps."
WHAT'S IT FOR?
General reference maps are a great source of information about high-level layout and geography.
They can give you information like the names of streets in a city; where, mountains, rivers, and forests lay; the locations of population centers in relation to natural features; the roads that connect cities; and much, much more.
WHY IS IT USEFUL FOR SURVIVAL?
In an urban situation, general reference maps are endlessly useful.
They give you the layout of the city or town you find yourself in and can tell you the locations of critical services like police and hospitals.
If you have to evacuate a population center (as people often do), general reference maps will guide you to other cities and towns. They'll give you information on traveling distances as well as your own location relative to major landmarks.
A Topographic Map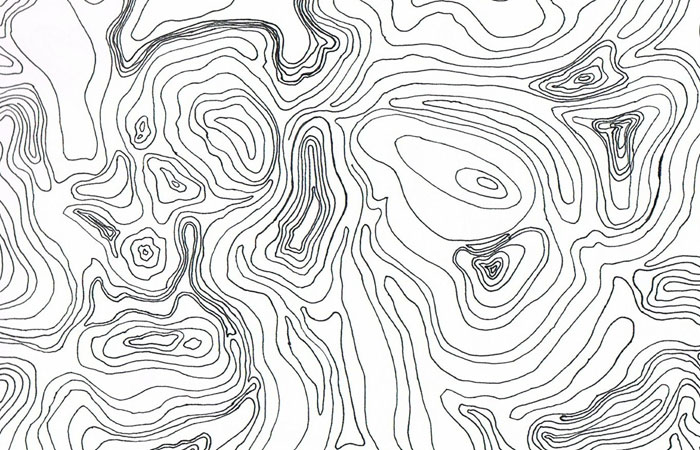 WHAT IS IT?
Topographic maps depict the three-dimensional shape of landscapes. They use contoured lines and measurements to express the height of hills and mountains and the depths of lakes and oceans. Many also include roads and populated areas, though not in as much detail as general reference maps.
In rural and wild areas, individual buildings like homes may be drawn as small dots or squares on topographic maps—larger buildings will sometimes appear as shapes. However, in densely populate areas, individual buildings are usually left out in lieu of geographic features.
WHAT'S IT FOR?
Topographic maps are excellent for getting a lay of natural landscapes. Geologists love them because they help track changes in the land over time, like shifting plates and glacial recession. They're also used to help builders find plots suitable for construction.
WHY IS IT USEFUL FOR SURVIVAL?
Topographic maps are the best friends of hikers and survivalists who can use them to determine everything from the difficulty of a slope to locations of water, roads, and more.
With just a general knowledge of any particular region, a topographical map can also help you ballpark weather conditions—at what elevations you'll find snow, where you'll most likely be exposed to wind, etc.
If a survival scenario takes you outside of a city, you can't do much better than a regional topographic map.
A Thematic Map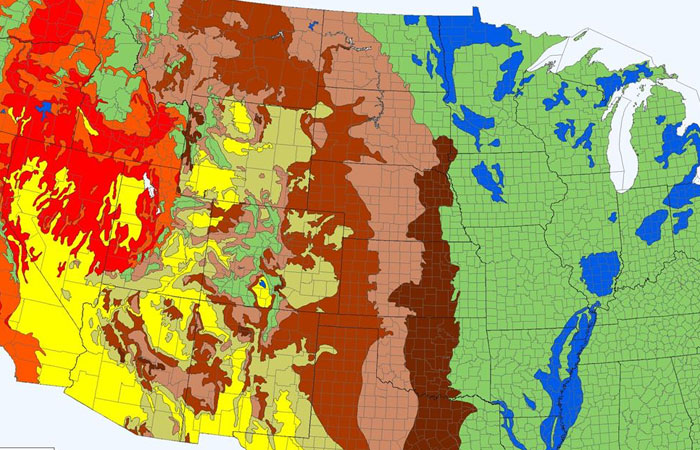 WHAT IS IT?
A thematic map, like the name says, is a "themed" map. It draws out one or more elements of a landscape that are not otherwise visible. Examples include weather maps or statistical maps that display aspects of population, culture, public opinion, etc.
WHAT'S IT FOR?
There are as many uses for thematic maps as there are "themes" to explore. Often, thematic maps are purely informative and make appearances in academic journals, magazines, and newspapers.
HOW USEFUL IS IT FOR SURVIVAL?
With a common factor as broad as "themes," thematic maps run the gamut. They can be utterly useless to the survivalist—depicting "gee whiz" information that make the paper they're written on more useful than the map itself.
Or they can be lifesaving: imagine a weather map in the wild or a map of herd populations when you have to hunt for food.
A Navigation Chart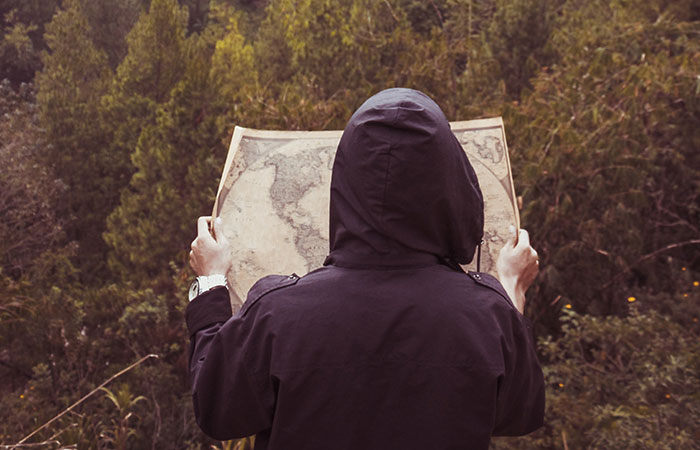 WHAT IS IT?
Navigation charts typically fall into two categories: nautical and aeronautical. Nautical charts depict the layout of shorelines, the floor of the ocean, water depths, aquatic hazards, and more.
An aeronautical chart is used for navigation and safe air travel by pilots. It typically includes—but isn't limited to—topographic land features, the boundaries of air space, flight paths, and hazardous regions.
Navigation charts combine elements of general reference, topographical, and thematic maps to create something highly specialized.
WHAT'S IT FOR?
Navigation charts have a very specific use-case—they help pilots and mariners safely traverse the air and sea.
WHY IS IT USEFUL FOR SURVIVAL?
Navigation charts are highly technical and require training to properly interpret. They are also most useful in the air or on the water—neither of which are places many survivalists expect to find themselves if SHTF.
However, they can be lifesaving in the right situation. If you live near water or if a plane or boat are part of your bugout plan, you need a navigation chart…and you probably already know it.
A Cadastral Map or Plan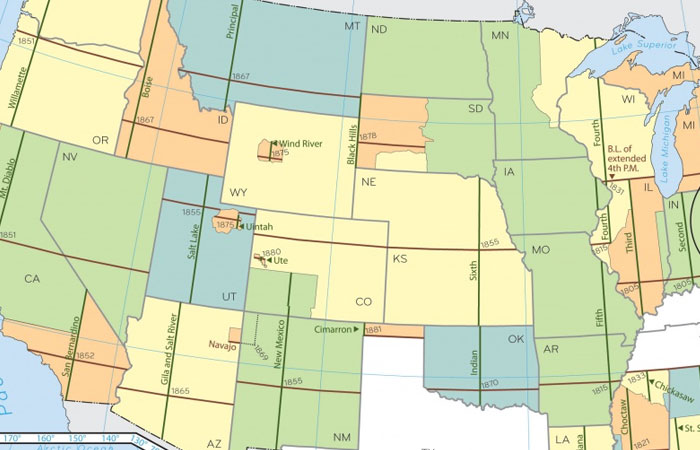 WHAT IS IT?
Cadastral maps, also called "cadastral plans," chart the ownership of land and real estate, both public and private. These types of maps rely on surveys and government records to continually establish and update the boundaries of properties.
WHAT'S IT FOR?
Mostly, these maps are useful for transactions: the sale and purchase of land and buildings, property development, construction projects, etc.
WHY IS IT USEFUL FOR SURVIVAL?
On its face, the cadastral map may not sound useful for survival scenarios. But in a longer-term emergency where you're forced to begin hunting down your own natural resources, knowing which lands are private and which are public can be of great use (assuming that contracts and governments are still in place, of course).
For example, most states and counties have restrictions that regulate public and private water usage. If your tap or well runs dry for weeks and other help isn't readily available, simply wandering to the nearest lake and drawing water may not be the best idea.
What types of maps are packed in your bug-out bag or emergency supply? Is there anything you'd add? Let us know in the comments below!
Subscribe for Free
Get access to premium content and more!