When thinking about preparing for medical emergencies most people don't think farther than buying the many available first aid kits. And those can be great starting points but too often are not nearly enough.
In order to be as well prepared as possible, start by taking a basic first aid course. Usually they cost very little, and sometimes can even be free through civic groups or your employer. They typically run 6-8 hours in length and are based on Emergency Medical Services (EMS) help being readily available.
If you can find a wilderness or remote first aid course, I would highly recommend taking that as it most closely fits what you're likely to experience in the event of a disaster. They're typically a two-day course and usually cost around $200, although some community colleges do offer them for less. They're typically designed to teach you how to deal with a medical emergency when EMS is up to 8 hours delayed.
If you have pets, you may also want to a take a basic first aid class for dogs and cats. Some larger pet stores offer in-person classes and the Red Cross offers them on-line, along with their basic first aid class for human patients.
It goes without saying that you should have a well-organized and stocked first aid kit at home. You can either purchase a pre-made kit or build one yourself. Its recommended that this be a back-up to your usual home first aid supplies. What it contains depends on your level of medical skill and knowledge.
But since we're talking about "away from home" emergencies, we're going to concentrate on two kits. A compact one for a purse, briefcase or commuter bag and a slightly larger one designed for your 72-hour survival bag, sometimes referred to as a Bug Out Bag (BOB). Other names for such a bag are a 72-hour kit, battle box, grab bag, go bag, GOOD bag (get out of Dodge), INCH bag (I'm never coming home), personal emergency relocation kit (PERK), or quick run bag (QRB).

COMPACT FIRST AID KIT
The compact first-aid kit can be purchased or created in a small zippered pouch. For a purchased kit the M2 BASICS 150 Piece First Aid Kit is a good all-around compact kit that only needs to have a few things subtracted and added. I would remove the CPR mask given the new instructions that say compressions are enough. I would replace that space with pain relief tabs, sting relief and any other medication you are likely to use such as antacid, antidiarrheal or cold medications. You can use small hobby sized 2"x3" or smaller zip baggies to store multiple doses. Make sure you label the baggies with content, dates and standard dose. Or if you prefer, you can purchase single use foil packs. Another needed addition is a small tube of triple antibiotic ointment. When complete this kit should tip the scales at less than 8 ounces.
You can also create your own compact kit. While some prefer hard sized cases I have found soft sided pouches to be easier to pack due to their flexibility. Any small zippered pouch can work including a pencil case or a small cosmetic bag and it doesn't need to look like a first-aid kit.
Creating your own compact first aid kit allows you to completely tailor it to your available space and likely needs given your surrounding environment. Remember this is not for your survival bag – this is for everyday carry in a purse, briefcase, school backpack or commuter bag.

What you will want to include:
Assorted sizes and styles of band aids, from small to large
Assorted sizes of sterile gauze pads (again small to large)
Triple antibiotic ointment.
Small individually packaged pain killers (Tylenol, ibuprofen), antihistamine, anti-diarrhea, antacid
Alcohol prep pads
Q-Tips
Butterfly closures
A small foldable pair of scissors
Compact Tweezers
Lip balm SPF at least 30
Surgical gloves – 2 pair
Burn gel
Small tube/stick of SPF50 sunscreen
Emergency "space" blanket
Small flashlight
Self-Adherent Cohesive Bandage also known as Coban™ or Vet Wrap – use it to secure gauze pads on humans/animals. Can also be used to wrap a sprain or hold a splint.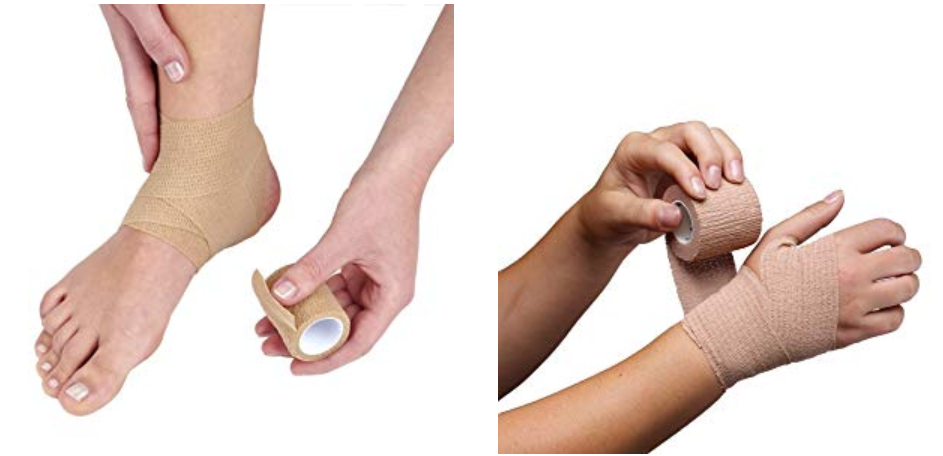 72 Hour Bag First Aid Kit
The purpose of this kit is to get you through at least the first 72 hours of an emergency and it is not something you should try to be overly frugal in stocking. You want items, even as simple as a band-aid, to stick and not come undone.

Like with the compact kit the container is always the starting point. You need something that is sturdy and light weight. Again, my preference is for a soft pouch as opposed to a hard case. It packs better both internally and externally. You can purchase empty marked first aid bags to make them easy to locate in an emergency.
You will want to include everything suggested for a compact first-aid kit along with the following:
Personal medications
Skip individually packaged meds as listed above and pack at least a dozen of each of the pain relief medications etc. in travel sized tubes or empty tic-tac containers.
Small non-aerosol bug spray
Hemostatic agent such as Quick Clot gauze – for severe bleeding only
Small bottle of hand sanitizer
Wet wipes – for cleaning up surface wounds or personal hygiene
Chemically activated hot and cold packs
Facemask or filter
Magnifying glass
Razor blade
Flashlight
Moleskin or similar for blisters
Feminine hygiene products – if you have room
Your first aid kit should be customized to your skill level. Having a full trauma or EMT kit will not help if you or those with you do not know how to use the items.
Finally, besides having a First Aid kit in your 72-hour bag, it might be wise to keep duplicates in every vehicle you one just in case for some reason your Go Bag is not with you when an emergency occurs.
Subscribe for Free
Get access to premium content and more!