If you have a hobby farm, it's time to take it up a notch and learn how to make your own livestock feed.
If you want to survive independently, you need to know how to not only care for livestock but also how to make feed for them so you don't have to rely on feed companies.
It's also significantly cheaper to grow and make your own livestock feed than to purchase it from a feed store.
Finally, it's safer and healthier for your livestock. Since you are the one producing the feed, you know what is in it.
The good news is that it is easy to make your own livestock feed—especially if you are already gardening and producing crops at home.
What to Grow to Make Your Own Livestock Feed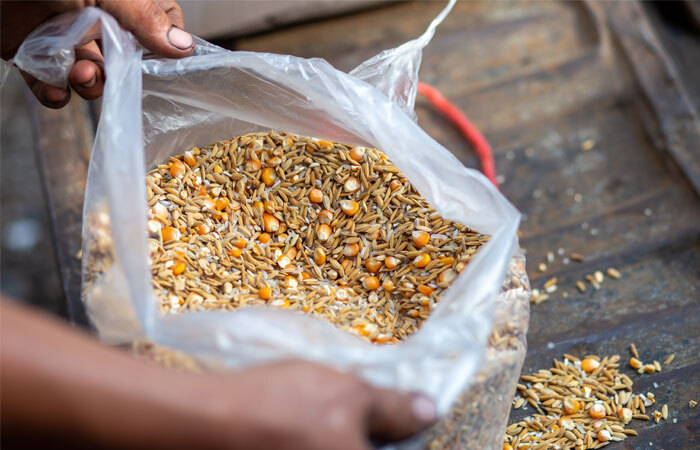 If you are already planting and growing, it's easy to add in crops that will feed your livestock.
However, you want to be strategic about what you plant because some crops are better for livestock feed than others.
The following are livestock feed options you can grow in your own yard. Plus, you can eat the produce and sell it!
Corn
Corn is typically one of the main ingredients in animal farm feed, so this is one of the most popular choices if you want to make your own livestock feed. However, you will need one to two acres to grow your own corn.
There are many different varieties that work well as livestock feed, such as dent corn. Dent corn kernels and stalks can be fed to livestock.
Pumpkins and Squash
Pumpkins and squash are excellent choices because they are high in fiber, protein, and healthy fat. You can grow a variety known as tromboncino along fences because they climb, which means they take up less space. Livestock eat the entire thing—seeds, rind, and flesh.
Mangels
Mangels are large beets with high water and sugar content. Mangels are easy to grow and serve. Simply give the raw roots whole to your livestock or chop them for pigs and sheep.
Potatoes
Potatoes are another popular choice for livestock feed because of their dependability. They are a mainstay for hog and chicken rations.
Kale
With tons of vitamins and minerals, kale is a wonderful choice for livestock feed. Plus, it's super easy to grow—even in the winter! Best of all, it can be eaten straight from the garden.
Sunflower Seeds
Sunflower crops are an excellent choice for chickens because they love to eat them. Meanwhile, cows, goats, and sheep love to munch their leaves, and pigs eat their stalks.
How to Grow Fodder for Livestock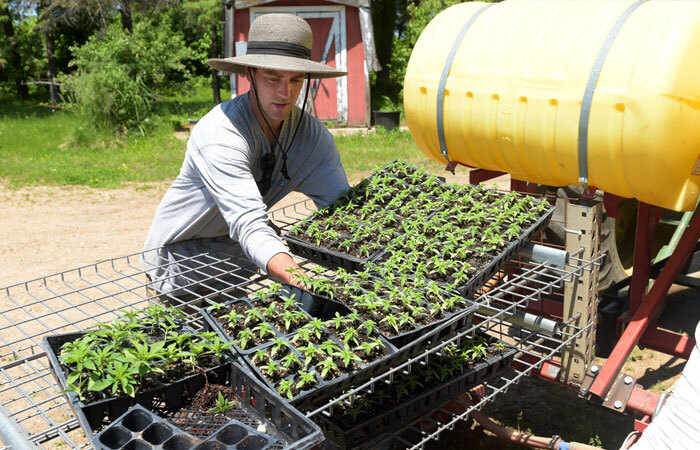 Fodder is another choice of feed for livestock. Essentially, it is a tray of sprouted seeds from whole grain. Fifty pounds of whole grain can be turned into 300 pounds of fodder by sprouting it.
Here are instructions from Attainable Sustainable:
What You'll Need
Shallow trays—you can use baking trays, an assortment of recycled containers, etc.
Shelving or a rack on which to place the trays
Drill with a one-eighth-inch bit
Bulk whole grain—barley, wheat, or oats works well
Bucket
Water
Instructions
Drill several drainage holes in the bottom of each tray. Test to make sure water drains sufficiently.
Soak grain in a bucket of water overnight. Cover the grains with about two inches of water. The amount of grain to soak depends on the size of your trays and how many you're filling. Aim for a half-inch depth for each tray. The grains have a tendency to mold if they're deeper than that.
Drain grains and transfer to trays. Spread evenly.
Water each tray morning and night. If your region is really dry and the sprouting grains dry out quickly, you might need to water them during the day or experiment with using lids on the trays to help prevent evaporation.
You'll see roots within the first couple of days, followed by greens. The sprouted grains are edible at any point, but it usually takes a week or so to develop a nice, solid block of fodder that you can lift out of each drawer.
What to Mix to Make Your Own Livestock Feed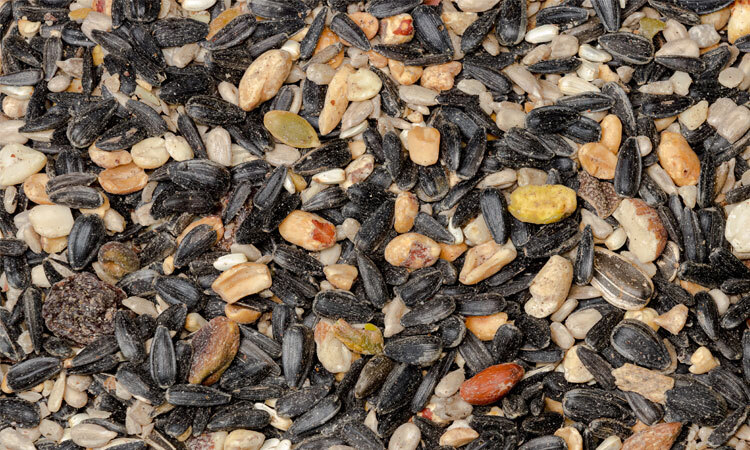 If you don't have space to grow your own livestock feed, there are still many ways to make your own.
For example, you can take advantage of your local farmer's market or feed supply store to get ingredients to make your own livestock feed.
Look for ingredients, such as:
Split Peas
Lentils
Sunflower seeds
Barley
Oats
Wheat berries
Cracked corn
Flax seeds or meal
Salt
Pumpkin seeds
You can also play around with different feed mixtures to find the right one for your livestock.
Typically, chickens will peck and pick their favorite seeds from chicken feed, so you may need to experiment to see which mixture is right for your chicken coop.
It is also important to add supplements to the DIY feed to ensure your livestock doesn't experience nutrient deficiencies. For example, add oyster shells to feed for chickens for additional calcium.
Check out this recipe to make your own chicken feed.
Garden Betty's Homemade Whole Grain Chicken Feed (yields 8.5 lbs.)
Ingredients
4 Cups oat groats
4 Cups black oil sunflower seeds
4 Cups hard red wheat berries
2 Cups soft white wheat berries
2 Cups kamut
2 Cups millet
2 Cups whole corn
1 Cup lentils
1 Cup sesame seeds
1 Cup flax seeds
1/2 Cup brewer's yeast
1/4 Cup kelp granules
Free-choice oyster shells
Free-choice grit
Instructions
Combine all the ingredients, except the oyster shells and grit, in a small bucket.
Fill your feeder with the mixed grain feed or store the feed in a pet food container or galvanized steel bucket with a lid.
Offer the oyster shells and grit in separate small feeders for your chickens to eat as they wish.
Make Your Own Livestock Feed
There are several ways to make your own livestock feed in your own backyard or kitchen.
If you have the space, create a separate garden away from the animals, unless you want your livestock to eat it before you have a chance to see it!
For those with smaller spaces, consider container gardening. Foods like carrots, for example, grow well in containers.
Don't forget about your compost pile! You can use your leftover scraps as livestock feed.
Subscribe for Free
Get access to premium content and more!